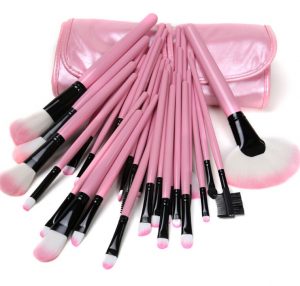 Did you know that professional make-up artist has even several dozens of make-up brushes? What's even more interesting, uses most of them when performing make-up for one client. Let's see what brushes are essential for executing the perfect make-up.
Foundation brushes
The brush you choose depends on the foundation texture. Cosmetic with liquid formula is applied with, so called paddle brush. Use it accordingly to the bristle direction. For application of powder foundation best will be flat top brush. These administer product in a great way, providing natural effect.
Concealer brushes
For application of this cosmetic best are small and flat paddle brushes. Thanks to them the concealer will be spread evenly, blend with the foundation and all the imperfections camouflaged. For concealers with liquid and creamy formula use applicators with synthetic bristle.
Powder brushes
Large, puffy and soft brush is your go to when it comes to powder. This type of applicator will fix the foundation, mattify skin and make your make-up truly long-lasting. If you care about 100% matte effect, on the T zone apply a bit more powder. Under eyes use highlighting powder, that will not cause dryness.
Face contouring brushes
These are brushes for bronzer, blusher and highlighter. First of them should have slightly rounded tip or have angled bristle. The bristle in brush for blusher is usually angled. However, it can also have an oval and a bit flat shape. Brushes for highlighter are small and oval or angled.