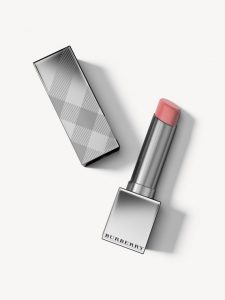 Winter isn't over yet and Burberry is already introducing new cosmetics for the season spring-summer 2017. We are talking about Antique Nudes. In the proposition from this English fashion house are nail polish, blusher, lipstick, eye pencil and foundation. Will you fall in love with collection by Burberry?
Eye make-up with Antique Nudes by Burberry
To underline eyes use eye pencil Burberry Antique Nudes, Eye Colour Contour. This cosmetic was designed to resemble a pen: colourful stick hidden under the cap. You can choose out of several shades: beige, brown, black, navy and green. This product has light-weight texture, great coverage and intense colour. Thanks to it you can create a feline flick or just cover the entire eyelid. Some shades contain shimmering pigments, that additionally beautify eyes.
Lip make-up with Antique Nudes by Burberry
Burberry Full Kisses, Lip Velvet Honeysuckle and Burberry Kisses Sheer are colourful lipsticks that allow you to perform professional lip make-up. All of them are available in vivid shades of red, pink, beige and orange. Colour lasts long on lips, does not wear down during eating and drinking. Lipsticks ensure incredible effect of bigger and fuller lips. They contain moisturising and nourishing ingredients that take care of skin.
Face make-up with Antique Nudes by Burberry
In the new cosmetic line by Burberry is also Fresh Glow Luminous Fluid Base. It is available in two shades: Nude and Golden. What is more, Nude shade can be bought in golden packaging while the remaining foundations have silver bottles. The foundations by Burberry contain shimmering particles, that provide skin with radiant glow and incredible appearance. Water based formula allows quicker and easier application, while deeply moisturising and prevent dryness.
Manicure with Antique Nudes by Burberry
Nail polish collection by Burberry is truly enormous. There are 49 colours. Among them are colours of: red, black, grey, green, yellow, turquoise, white, beige. Nail polishes provide shimmering finish and long lasting effect, does not chip and are easy to remove. In a glass bottle is 8 ml/0.3 oz. of colourful liquid. Product is free of artificial substances, that could weaken nail plate.