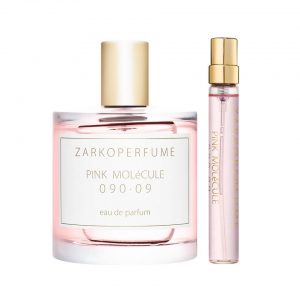 It's said that perfumes accent mood and character, that they top up make-up and the outfit. Moreover, fragrances pose the inseparable element of each human. Having this in mind, Zarkoperfume designed original perfumes that adjust themselves to a man who wears them. What does it mean? Keep reading to find out how molecular perfume Pink Molecule 090.09 smells.
What are molecular perfumes?
Molecular perfumes are a special kind of cosmetics that mould to every human. To put it another way, in a contact with skin, these perfumes are able to gain an unique aroma. Molecules, which the product is made of, have specified base. However, when exposed to a particular pH of skin, these transform and produce original scent. Unfortunately, choosing the right fragrance is considered to be a tough task. Aroma of some perfumes is really intensive, whereas fragrance of the other vanishes the moment applied. Therefore, before buying Zarkoperfume Pink Molecule 090.09 take into account all for and against factors. By knowing the specifics of the molecular perfumes, it's worth giving a go to several samples first so as to find the scent that comes up to our expectations best.
Who can use molecular perfumes?
Obviously, such perfumes can be used by everyone without exception, but especially by those who would like to smell in a one-of-a-kind way. The bad side is that Zarkoperfume products are expensive and available just in a few e-shops. Remember though, you mainly pay for the brand and the fragrance that no-one, except you, is going to wear. The perfumes are closed in a phials of 100 ml capacity. The bottles are minimalistic in their visual appeal; they don't have any decorations. Yet, the elements that make the product stand out are white or black labels, and gold or silver caps.
How does Pink Molecule 090.09 smell?
Good question! The perfumes smell differently on each of us. Nevertheless, Pink Molecule 090.09 is made from three fragrance notes. Rose molecules, black Orchid, apricot and elder – these notes can be found in the head fragrance notes. You will discover heart notes when they come into contact with your skin. The base notes compose mahogany and woods.