Does your extremely damaged hair need a mask but you simply don't have the time to look for the right product? You don't have to worry about it. We've selected the best deep hair repair masks for you. The ranking of hair care products that you'll find below includes only the top-rated cosmetics, loved by users worldwide. Find out which masks are able to fix your frazzled hair and what consumers like most about these products.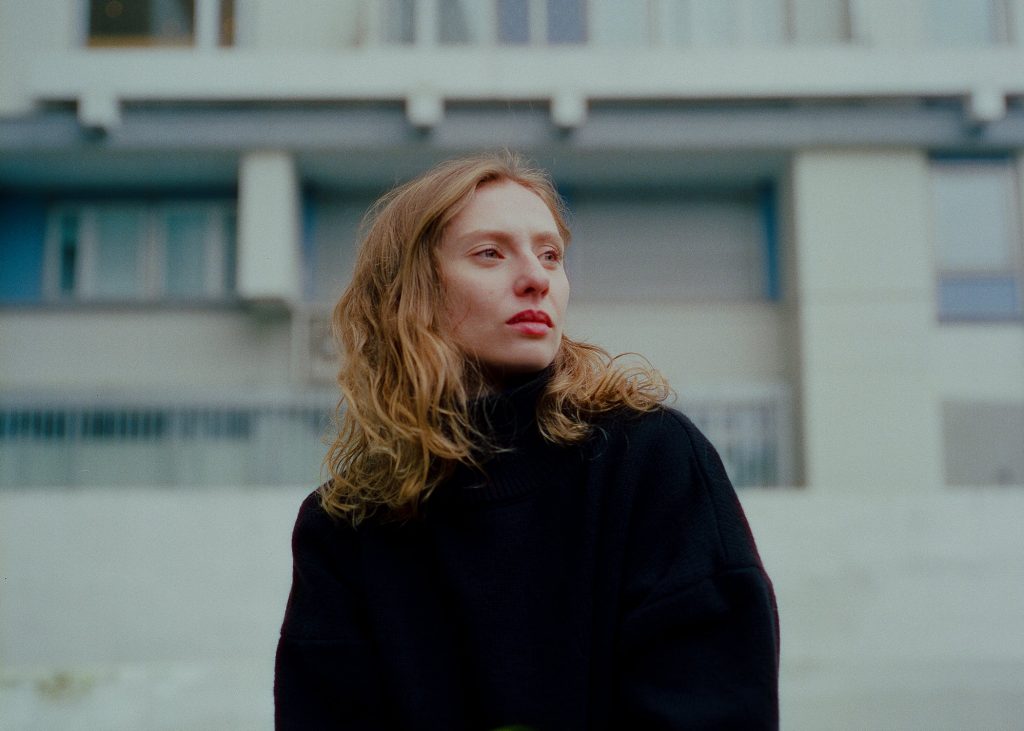 What is the best mask for damaged hair?
There is no better ingredient to repair brittle and frazzled hair than keratin. How's that? Because keratin is the main constituent of hair, it's a protein that is essential for hair to remain strong, shiny and full-looking.
We know that there are many hair masks enriched with keratin on the market. Paradoxically, this wide choice of products turns out to be a little bit problematic. How will you know if a keratin hair mask you're looking at is made for your strands? To make it easier for you, we selected – and thus will present to you – only the keratin masks that have been constantly growing in popularity for the last couple of years. In the ranking below you'll find products formulated with top ingredients, deliver best results and are bought by the users like you.
As you can see, choosing the right hair mask to repair damaged and dull strands doesn't have to be difficult at all! See the best keratin hair masks that will improve the appearance of your hair, no matter the problem you're currently struggling with.
Best Masks for Extremely Damaged Hair – Ranking
NANOIL – KERATIN HAIR MASK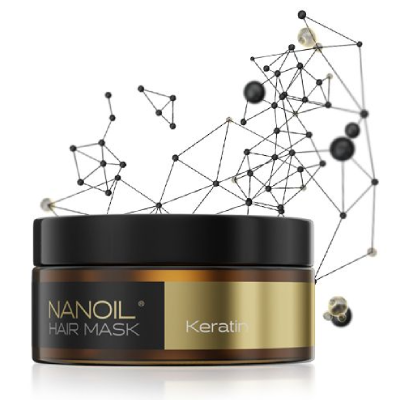 This is our absolute favorite! This mask isn't only remarkably effective but it also doesn't need much time to deliver promised results. Due to the high concentration of hydrolyzed keratin, Nanoil Keratin Hair Mask is able to reconstruct and repair the hair from the inside. Panthenol, in turn, is responsible for providing protection against external aggressors. Apart from that, Nanoil treatment leaves hair moisturized and nourished so you can enjoy fuller-looking, shiny and soft hair. It's worth pointing out that Nanoil Keratin Hair Mask is strong enough to fix even extremely damaged and dehydrated strands. Use it just once and after 15 minutes your hair will become smooth, soft and elastic. Its lightweight texture doesn't flatten the already volume-deprived and fine hair, which is definitely worth mentioning. Nanoil Keratin Hair Mask guarantees gorgeous, strong and healthy strands that can be arranged in any hairdo you only imagine! And it also smells wonderful!
Learn more – www.nanoil.co.uk
MOROCCANOIL – RESTORATIVE HAIR MASK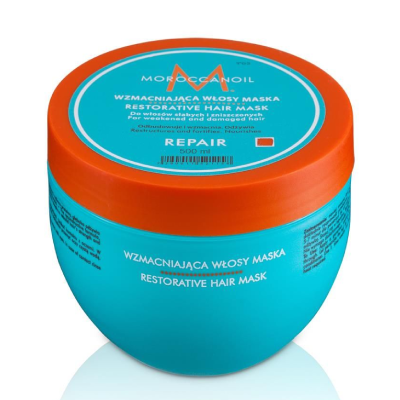 Moroccanoil and its Restorative Hair Mask is currently one of the most popular and widely-recognized hair masks for damaged hair. Even though its price may be a little bit discouraging for some users, this product is an expert in restoring good-looks to stressed-out and frazzled hair. Those who succeed at repairing their strands with Restorative Hair Mask continue using this product to maintain the amazing effects. There are also users who claim that they carry on using this mask because it defines their curls like no other product. Moroccanoil hair mask also combats frizz and static, locks moisture inside the strands and leaves hair elastic.
WELLA – SP LUXE OIL KERATIN RESTORE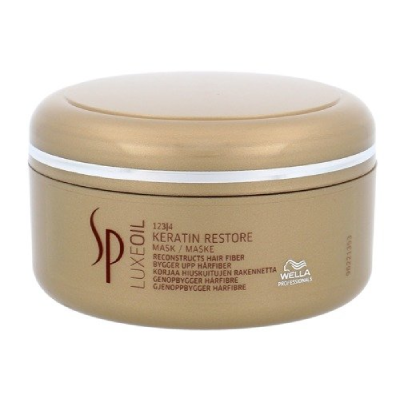 This is an offering for those who like budget solutions. Wella Sp Luxe Oil Keratin Restore mask is another world-recognized hair repair product, loved by the regular customers and hair specialists. It's known for its ability to provide good hair care, as well as for protecting strands from damage and unfavorable weather conditions. When used regularly for a couple of weeks, hair regains its natural shine and gets pleasant to the touch. At the end of the treatment, strands are regenerated and repaired, even if they were extremely dry and frazzled at the beginning. Wella Sp Luxe Oil Keratin Restore makes a good choice for those who want to have smooth and lustrous tresses.
KIEHL'S – SUNFLOWER COLOR PRESERVING DEEP RECOVERY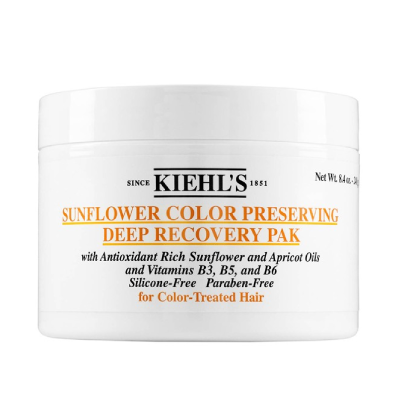 Do you dye your hair regularly? If your answer is positive, then you may be interested in getting yourself this mask because one of its key tasks is preventing color from fading. In general, Sunflower Color Preserving Deep Recovery mask by Kiehl's is destined for dyed and bleached hair, as well as for the strands damaged due to invasive styling such as straightening or perming. The mask is thick because it is rich in nutrients and oils, which means that it must be removed fully from the hair to prevent volume loss. The good news is that this mask lasts long, making the high price little less off-putting. Kiehl's mask knows how to fix frazzled hair by protecting it from losing moisture. Sunflower Color Preserving Deep Recovery strands promotes soft and glossy hair for weeks after dyeing.