None of us likes to clean make-up brushes. Soaking, cleaning, drying… And still your applicators are not as clean as they should; and this wetness you feel when applying make-up cosmetics. If you want to fast and effectively clean all your brushes, try this newest device by Tom Pellereau, StylPro Makeup Brush Cleaner and Dryer.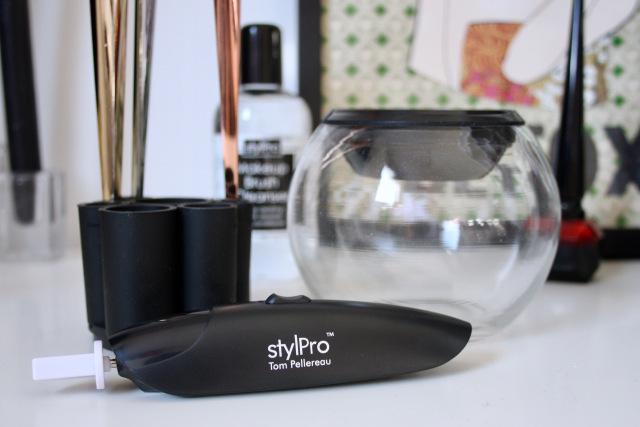 Why should you wash your make-up brushes?
If you want your skin to be healthy and beautiful during every make-up, you must systematically clean your brushes. In the dirty bristle are proliferating bacteria causing skin irritation, acne and blackheads. What is more, performing make-up with a brush that holds thick layer of foundation or powder will not provide the looked-for result. Cosmetics can cake and agglomerate in the hollow parts of the face and leave you with uneven surface. How did you clean your brushes so far? You filled a glass with water and soap or make-up remover. You dipped applicators and soaked them for few hours, then they laid in some warm place. The result? The moisture and residues of cosmetics in between the tights bristle. Luckily, StylPro Makeup Brush Cleaner and Dryer was created, a device dedicated for cleaning brushes.
StylPro Makeup Brush Cleaner and Dryer by Tom Pellereau
This clever device can easily clean even the dirtiest make-up brushes. How does it look? StylPro Makeup Brush Cleaner and Dryer is a lean gadget with attachable attachments for the brushes. In the set are eight attachments adjusted to the size of your applicators. There is also a bowl, a holder, where you can place brushes and attachments, and instruction manual. Do not forget to buy washing liquid.
How should you use StylPro Makeup Brush Cleaner and Dryer? Match brush with the attachment and attach it to the main part of the device. Fill the bowl with water and washing liquid. CLICK… and the brush starts to spin really fast. By dipping it in the water, you remove all the foundation, powder or eye shadows from the bristle. By placing the brush right above the water surface, you will dry it. After a moment you can turn off StylPro Makeup Brush Cleaner and Dryer. You'll see that your make-up brushes are going to be clean as ever.