What is rice water? It's simply water that stays after you cook rice. Some recent studies have proved that it's worthwhile to keep this kind of water for its amazing cosmetic uses. What are its properties? Learn all details about rice water.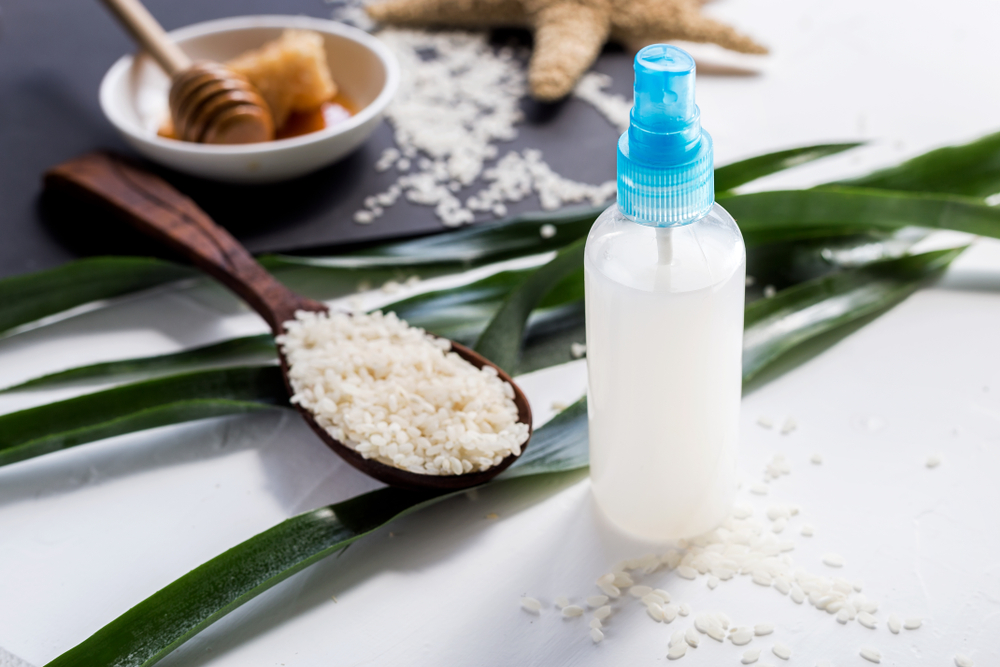 Asian women have always appreciated the qualities of rice, both when cooking and improving their appearance. They don't need to be told that it's filled up with valuable vitamins and proteins essential e.g. for healthy hair. This is the very reason for the popularity of rice-based hair rinses over there.
What is rice made up of?
First things first. What's inside rice water?
Above all, rice is a source of carbohydrates, protein, fiber and polyunsaturated acids. Fatty acids and proteins are the most valuable in hair care since they strengthen hair from within and protect from moisture loss on the outside. Apart from that, rice is high in vitamins (incl. folic acid, PP, vitamins B) and beneficial mineral salts: magnesium, zinc, phosphorus, iron, manganese, copper, selenium. What's important, all ingredients are easily absorbed by our bodies – both when we eat rice and use it in hair care.
NATURAL, RICE WATER HAIR RINSE
A rice-based hair rinsing mixture is a brilliant natural product thanks to a large quantity of ingredients essential for hair (especially damaged hair).
This very rice water rinse is one of Asian beauty secrets. The advantageous effect of rice water on hair isn't just a myth passed on from one generation to another. It's a great at-home treatment for strong, gorgeous hair which really works. Its beginnings date back to the Heian period in Japanese history when women started treating hair to water after cooking rice.
What's worth knowing about rice water?
When we hear about rice water for the first time, we imagine professional rice-based products. Are we right or wrong?
Rice water is simply water that stays after you cook rice – the water most of you pour away. Apparently there are two types of rice that are the most popular in hair care – jasmine rice and brown rice are given credit for the best qualities. You can try white rice as well but it will just be poorer in nutrients.
It's a must-know fact that fermented rice water gives the best results! This means you should put rice water aside for a day to let the rinse slightly acidify so it has the proper pH.
Rice water: hair benefits
Why it's worthwhile to make use of water after cooking rice? Non-believers should be convinced by the incredible effects. Rinse your hair with rice water just two or three times to see that it's able to:
strengthen hair and reduce hair loss.
boost elasticity.
repair damaged hair.
keep hair ends from splitting.
act as a protective shield.
smooth out hair and increase shine.
How to prepare a rice water hair rinse at home?
Rice water is an all-natural cosmetic so you won't buy it. You can make it at home which isn't tricky or time-consuming. What do we need (to do) to make a natural rice water hair rinse?
All you need is two ingredients: a quality jasmine or brown rice and clean water. Pour water over the rice and cook for approx. 15 minutes. Don't salt the water! Drain the rice – the water should be a bit cloudy and milk-colored. That's your hair rinse!
If you want to make the rinse give even better results, leave the rice water for two days at room temperature. Because of fermentation, the mixture is perfect for rinsing the hair, leaving it super-smooth.
Before using your DIY rinse, you need to thin your rice water with clean water. A glass of water for 3-4 spoons of your rice essence will be the best ratio.