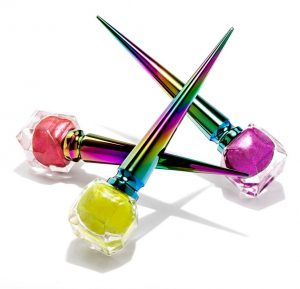 The trend concerning all that is unicorn related just keeps on going. There was lipstick by Too Faced and manicure called Unicorn Nails. Now comes the time for nail polishes Loubichrome by famous fashion designer – Christian Louboutin. Check out, what's so incredible about these cosmetics.
Loubichrome is a limited edition of three nail polishes. They were designed by famous artist, Christian Louboutin, the same one who made the iconic high heals with red sole. Nail polishes refer to trendy lately unicorn theme. Cone caps flicker with all the colours of the rainbow, just like a tail and mane of a fairy tale horse. The designer model the shape of cap on high heals. This is why the cap is slim and pointy. However, bottles have geometrical shape and are exceptionally colourful.
You can choose out of three colours: yellow, red and violet. These are amazingly vivid, energetic and expressive. On top of it, the product contains shimmering particles. Loubichrome by Christian Louboutin provide shiny, long lasting manicure that does not chip. Thanks to precise brush, nail polish is quick and easy to apply. It dries already after few minutes. If your go to effect is intense colour, apply several layers. This way you will achieve trendy this season, chrome effect.
How should you use Christian Louboutin nail polishes? Before you use these incredible colours, prepare nail plate. Remove old nail polish residues, with wooden stick push back cuticles, file edges of nails. Only now you can apply Loubichrome. Directly on the nail plate apply colourless conditioner to prevent discolouration to the nail plate and to make chrome effect more long lasting. Then apply one or more layers of chosen nail polish by Christian Louboutin. When it dries, apply colourless top coat. The entire manicure will present itself elegant and magical.