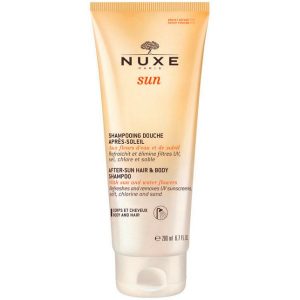 When your skin gets a little bit too tanned or after spending a super relaxing day at the seaside, you should make a good use of After-Sun Hair & Body Shampoo launched by NUXE Sun. The cosmetic removes sunscreen, sand, chlorine and other impurities that gather on your skin throughout a summer day. Additionally, the cosmetic relieves irritations caused by long exposure to the sun. What's important, NUXE Sun, After-Sun Hair & Body Shampoo is recommended even to people who have sensitive or dry skin of body and scalp, as well as dehydrated hair. The product doesn't contain soap, surface active agents produced with the use of sulphates nor any other highly dehydrating substances. Friendly is also the formula of the cosmetic, for both skin and the environment. After-Sun Hair & Body Shampoo contains plant extracts taken from water hyacinth and Puakenikeni blossom.
The product, belonging to NUXE Sun series, has delicate consistency. This makes it perfect at taking care of skin and hair. It precisely cleanses skin and scalp, is responsible for maintaining moisture at the right level and delivers softness, smoothness and nourishment to hair. The best thing about Hair & Body Shampoo is that it can be used by anyone, regardless of the skin type, hair type, age or sex. The cosmetic is especially recommended to those who would like to save up some time during the evening washing. What are the directions for use? In fact, there is nothing exceptional about applying the NUXE Sun product. Just damp skin and hair, apply the cosmetic, lather and rinse it afterwards with water. As a result, you'll obtain the effect of smooth and velvet to the touch skin as well as beautiful and shiny hair. Moreover, your skin will become freshened up, elastic, relaxed and perfumed beautifully.
NUXE Sun, After-Sun Hair & Body Shampoo is closed in a tube of 200 ml capacity. The package stands on the cap, which makes the residues of the product run down the walls. Naturally, this facilitates getting most of the cosmetic out of the tube. Moreover, when smelling After-Sun Hair & Body Shampoo, we can sense notes of orange, gardenia and vanilla. These beautiful elements of the aroma linger on our skin and hair long after being applied.