Discover Nanobrow Lamination Gel!, a fabulous product that will style and keep your hairs in place for 24 hours!
The unique formula of the gel replaces professional brow lamination, thickens and holds brow hairs in the desired direction. The gel is equipped with a precision applicator that separates, combs and styles hairs thoroughly. You can create a three-dimensional effect of eyebrows with maximum volume. With Nanobrow Lamination Gel you can shape your brows however you like the most and be satisfied with the effect all day long!
The application of Nanobrow Lamination Gel
Nanobrow Lamination Gel can be used alone or along with pencil, powder or pomade. It effortlessly combines with every type of brow makeup product, not only making them last longer but also boosting shine and strengthening hairs.
To brush the gel into your hairs use a special spoolie – it's very small so it reaches and coats every little hair. Apply Nanobrow Lamination Gel in 3 different ways:
Before doing your makeup: comb the hair up and away, smooth the edges and camouflage the gaps with a pencil or pomade. Create a few additional thin lines, mimicking real brow hairs.
After doing your makeup: do your usual makeup routine and set the look with the gel.
Use it solo: with a few movements of the spoolie coat the hairs with the gel which will make them look natural. It's the quickest method for a no-makeup makeup look.
Due to the fact that Nanobrow Lamination Gel comes in 4 natural shades, you can easily find the right colour for you.
Beige – for blondes and brunettes
Brown – a darker shade with a warmer undertone that will suit those with auburn, red and brown hair.
Black – for very dark and cool-toned hair colours.
Transparent – a clear, versatile version of the gel made for everyone. It boosts shine and thickens the brows without adding colour.
Nanobrow Lamination Gel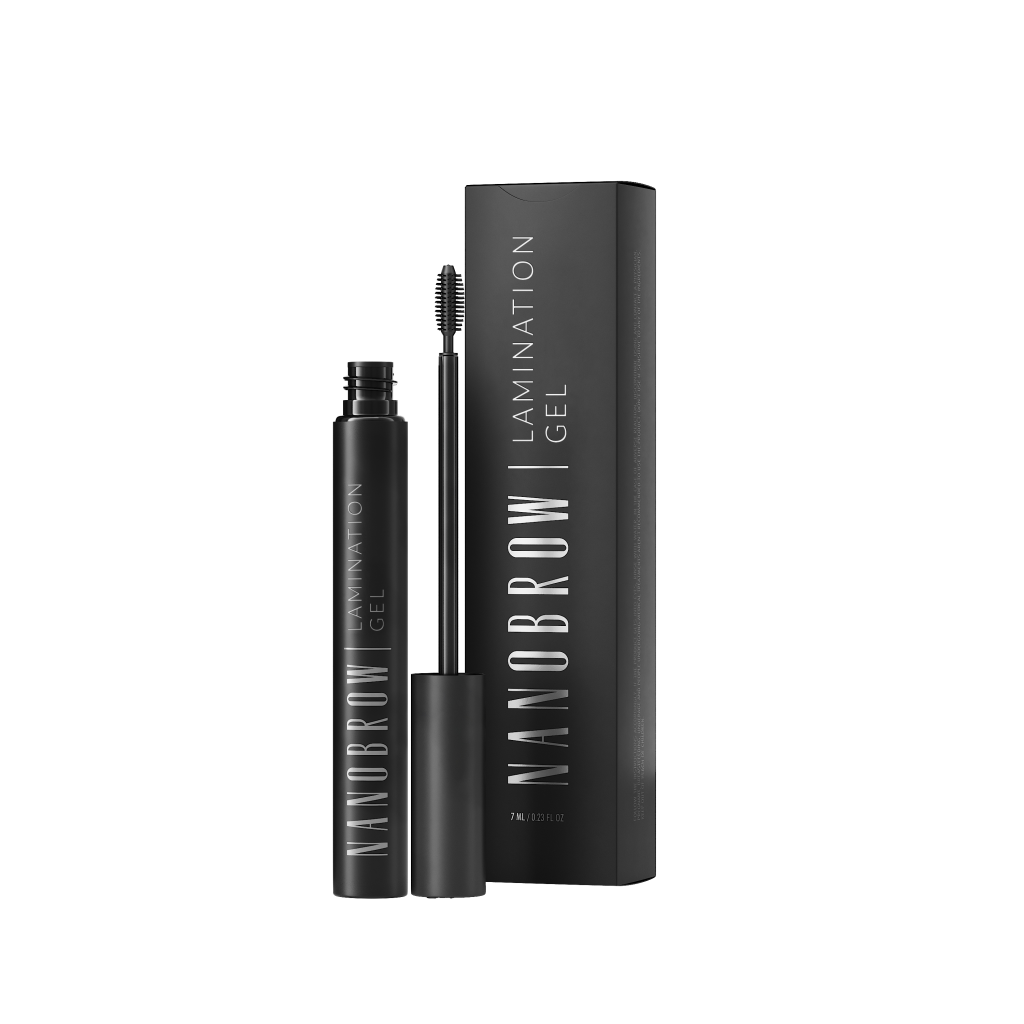 It's available in shades:
Nanobrow Lamination Gel – results
What makes Nanobrow Lamination Gel stand out? Its long-term effectiveness, the addition of cosmetic oil, a formula safe for those with sensitive skin. Carefully-selected ingredients are a guarantee of the best results possible and brows that will always look fabulous. With Nanobrow Lamination Gel you will not only style your eyebrows but also deeply nourish them. This is possible thanks to the addition of castor oil in the composition – it accelerates hair growth and makes the eyebrows fuller in a natural way.
sets the brows for 24 hours
styles and boosts volume
delivers the effect of brow lamination
perfectly defines the eyebrow arch shape
regenerates, strengthens and adds shine
suits every brow type
It doesn't matter if your eyebrows are thick, unruly or very thin. Nanobrow is always the right choice! It's a real brow styling expert you can put trust in. Go for professional products that made thousands of women across the world satisfied and happy with the results. Join them!
Where can you buy Nanobrow Lamination Gel?
The product is available on the producer's official website: nanobrow.co.uk