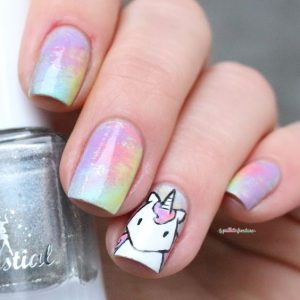 The unicorn trend stands firm and strong. All women remember lipstick by Too Faced in magical Unicorn colour. Manicurists decided to copy this trend and use it on nails. As a result we have original look reminding of a fairy tail creature – Unicorn.
Unicorn nails are not only about horses and holographic nail polish. This is also gel applied on the nail plate and shaped to look like a unicorn horn. This way you gain 3D effect. As if that wasn't enough, nails are decorated with brocade, colourful dust, special jewellery and popular ombre. Nails are harden in the UV lamp, so that effect last for a really long time.
What colours are most commonly associated with unicorn nails? As it is not difficult to guess, it is the same shade as for the lipstick by Too Faced. To gain this result is used special nail polish, called holographic. This product seems three dimensional and nails look very attractive. Equally popular are nail polishes in colours of white, gold, pink and blue. Every manicure in unicorn nails style must be decorated with an image of unicorn. It is small horse in white colour with rainbow horn or tail. Nails are often decorated also with bows, pictures of horses and other shimmering and sweet things. Manicurist will use professional gadgets to create unusual look.
How do unicorn nails are created? At first cuticles need to be pushed back, nails filed and polished. Then on the nail plate is applied gel or acrylic. Right length and shape is chosen. Beautician applies thick layer of gel starting at the tip of the nail and places it obliquely. Final result resembles unicorn horn. Then manicurist decorates nails, applies nail polish, dust or brocade. Stickers and 2D pictures are preserved with top coat, while gel and acrylic are preserved in the UV lamp.