Indeed, almost every women have got this cosmetic in her make-up bag. A foundation, because we're talking about the very beauty product, beautifies, camouflages skin imperfections, evens skin tone and sometimes even delivers nourishment. Check, what more is worth knowing about it. What does it contain, why is it able to keep skin matte for that long and what are the types of a foundation consistence can be distinguished?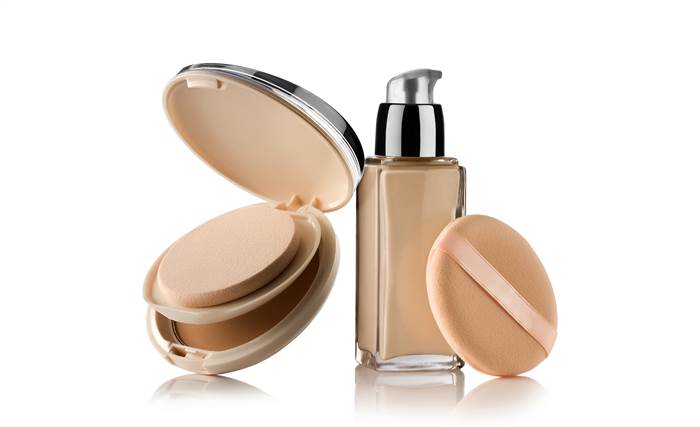 The best formula of a foundation is…
… emulsion O/W, which is the abbrevation for 'oil in water'. This mixture is considered as the best for making make-up foundations. Why is that? Water evaporates immediately when applied therefore, skin is left with a colour layer, known by a make-up artists and beauticians as a 'film'. When a foundation contains W/O emulsion, also known as 'water in oil', face shines and becomes sticky right after putting on the foundation.
Matte effect and longer foundation performance
In great majority of mattifying foundations we can find silicone emulsions and small amounts of oil-like substances. Colour products of this type contain silicone oil that leaves skin with a pleasant to the touch layer. Moreover, foundations' compositions include other ingredients, such as talc, nylon-6, nylon-12, silica, and starch derivatives all of which are there to absorb sebum.
What does the level of camouflaging depend on?
As it is not hard to foresee, level of camouflage depends on the amount of pigments used in a foundation. In most products, pigments constitutes 5-15% of the total product's composition. In general, a particular colour of a cosmetic is obtained due to combining carbon dioxide with yellow, red and black iron oxides. Colouring creams contain from 3% up to 6% of pigments therefore, their camouflage is light.
What is the difference between liquid foundations and pressed or stick foundations?
These foundations differ among themselves with formulation. To demonstrate, liquid foundation is based on either W/O or O/W whereas a compact foundation has wax-oil formula as it contains many camouflaging pigments and powdery substances. Stick foundations are dense, fragrance-free and have oily consistency. They are especially recommended for normal, dry or mature skin. Furthermore, stick foundations are more demanding in terms of being applied evenly on face. In fact, this feature makes them perfect to be used instead of a concealer. Last but not least, stick and compact foundations might contribute to skin dehydration.
Waterproof and anti-ageing foundations
Waterproof foundations contain volatile silicone oils. If it wasn't for them, the cosmetic wouldn't be that easy to apply. Moreover, thanks to volatile silicone oils, foundation is absorbed fast and is resistant to rubbing or removing. Such products are poor in lipids. For that very reason, this kind of beauty products aren't recommended for dry skin owners since they may intensify the sensation of 'tight' skin. When it comes to anti-ageing foundations, these in turn contain pigments reflecting light as well as a set of nourishing and moistening substances. All the ingredients are responsible for reducing visibly of wrinkles.