When we're starting our journey with mineral cosmetics, we often wonder whether to buy a mineral foundation and when we finally get one, we start thinking if we should invest our money in a mineral powder too. Is there any difference between those two products since they look almost the same? This seems to be one of the biggest problems of all the mineral makeup beginners. Today we're going to dispel all doubts and explain the differences between a mineral powder and a mineral foundation. Finally, you'll learn which one you should find more useful.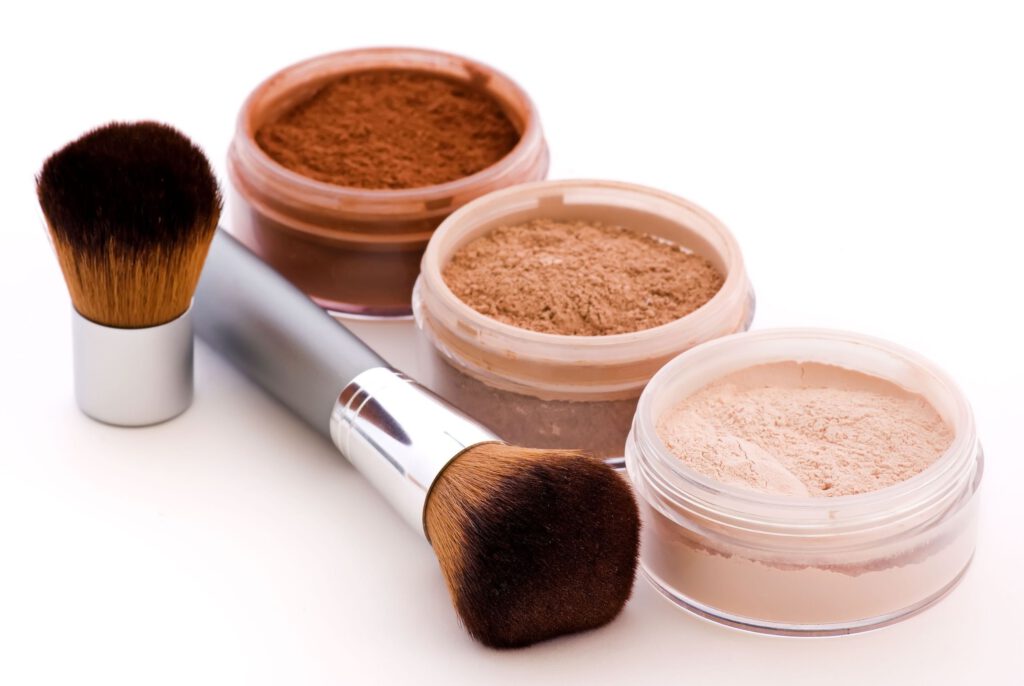 When we enter a drugstore to get some makeup products, we know that foundations are sold in small bottles, powders are either pressed or loose, whereas a concealer is usually sold in a tube. When it comes to mineral makeup products, there is just one texture that we work with no matter if we want to get a foundation, eye shadows or a concealer. This loose form of all mineral products happens to be fairly troublesome, especially for the beginners. Another vexed issue is how to use such products since they all look the same. Sadly, it very often happens that while doing makeup with mineral cosmetics we confuse particular products with each other so we use them incorrectly. Reportedly, we mostly confuse powder with foundation. Here's a short guide on how to use both makeup products in the right way. Also, we'll list some basic differences between those two cosmetics so you won't misuse them ever again.
MINERAL FOUNDATION
The most distinctive feature that makes mineral foundation stand out from similar products and somehow proves how peculiar this cosmetic is is the loose formula, which definitely is one of this cosmetic's biggest assets. Another advantage of mineral foundation is its skin-safe composition.
Most regular drugstore foundations have a liquid, stick or cream form, wheres mineral foundations are always lightweight and finely ground powders. This is the very reason we tend to confuse mineral foundations for face powders. However, it must be realized that the qualities of foundations and face powders are completely different.
Qualities of mineral foundation
Actually, there is just one task that all foundations are supposed to handle – even out skin tone, which includes smoothing face out and camouflaging blemishes. Unlike regular foundations, a mineral foundation is ultra light and far more gentle for skin. When you apply a mineral foundation then you can be sure that it won't create any nasty crust on your face, as it's typical for most commercial foundations.
Moreover, when matched to your skin type, mineral foundation gives flawless look that lasts the entire day. How is it possible? Mineral foundation is able to blend into skin better so it keeps complexion at bay – this translates into longer wear. Additionally, mineral foundation always offers sun protection – in most cases it's SPF 15. It's natural and entirely safe for skin. Obviously, the fact that mineral cosmetics are able to shield skin from harmful sun rays is a massive plus.
Only few know that mineral foundations positively affect face skin and are even able to improve complexion, which is owed to their soothing and anti-bacterial properties. For that reason, mineral foundations are perfectly suitable for problematic and sensitive skin. Thanks to being composed of just a few natural ingredients, mineral foundations never irritate or clog skin pores.
When it comes to application of mineral foundations, it's advised to do it with a special brush – kabuki brush. This makeup product has to be spread on face either with circular motions or stamping. It's important to apply several really thin layers of the product because only this application technique allows us to have a full control over the intensity of coverage. Last but not least, all mineral foundations offer a wide range of nude shades. Choosing the most suitable shade shouldn't pose any problem, especially that you can order and test samples of a particular product before spending money on the actual and full-size mineral foundation.
MINERAL POWDER
First things first, no matter their form – whether they are mineral or regular – face powders are always used to fix the makeup and to give it the final touch. When using a regular foundation (not mineral), you always have to follow with a powder to set the makeup. This can be compared to helping the foundation "dry" and mattify the skin. In other words, a face powder gives you satin finish, smooths face out and extends the lifespan of makeup.
In general, face powders used to give the final touch to the makeup can be either pigmented (which often improves skin tone) or translucent (they have no color). Translucent powders are either white or slightly nude, yet they give you no color when applied to face. Instead of coloring, such makeup product blends into skin and leaves matte finish.
Qualities of mineral foundation
The most popular mineral powder used to set makeup is mattifying mineral powder. Owing to its sebum-absorbing properties, such product is mainly used by oily and combination skin owners – it deals with T-zone effectively. The effect of matte face is delivered by kaolin, which is also known as china clay.
The second most popular mineral powder is the one that is responsible for brightening and highlight skin up. Giving this glowing skin effect, such product leaves face looking healthier and radiant. The effect produced by such mineral powder isn't intensive which makes it a perfect product for daily makeup. Once applied, you can be sure that it will diminish fine lines. In most cases, brightening mineral powder contains mica that is responsible for bouncing light off and giving satin finish. In other words, mica is able to reduce wrinkles and other skin blemishes.
Last but not least, mineral powder can be used as a replacement for a regular makeup base or mineral eye shadow primer.