Coconut oil – unique among natural oils. Now, it doesn't rule just in the kitchen but also in the bathroom where it accompanies your evening beauty rituals.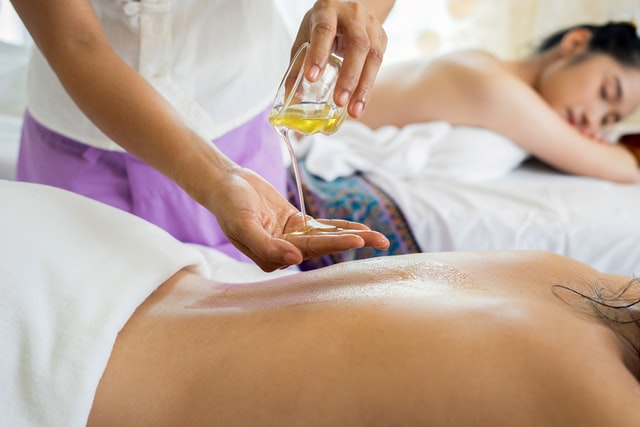 Interesting qualities make coconut oil grow in popularity among women who use it for everyday beauty care. It has a lovely coconut aroma, creamy formula and a wide range of uses. Does it work for a massage, too?
Coconut Oil Benefits
It keeps the natural scalp balance, adds softness, prevents dryness and flaking. The oil has rejuvenating properties so it prevents the occurrence of wrinkles and discoloration. Coconut oil delivers skin elasticity and a radiant appearance. It's a natural sunscreen thus shields against the harmfulness of sunbathing. This oil hugely enhances the skin condition, ensuring the hydration. It soothes irritation and all symptoms of psoriasis, skin inflammation, eczema, etc. Coconut oil brings relief and relaxation.
Coconut Oil for Massage
Looking at these benefits and properties, coconut oil is hands down a perfect massage oil. It must be natural, cold-pressed and preferably unrefined in order to give amazing experiences (also thanks to the aroma of coconuts).
1. Body Massage. A way to enjoy a true relaxation and escape into the world of pleasure at least for a moment. A bit of the creamy oil, which melts in contact with your skin, is all it takes. The fractionated coconut oil is recommended for massaging, too. No matter the type, it's rich in vitamins and minerals that penetrate the skin during the chill-in massage with the hot oil. The body massage with coconut oil warms you up, stimulates blood flow and eases off the pain.
2. Face Massage. A bit of relaxation during the evening beauty routine. A warm coconut oil effectively removes makeup and impurities. It additionally nourishes, softens and soothes irritated skin. Coconut oil face massage gives a moment for relaxation, reduces stress and increases skin micro-circulation. Nutrients are massaged into the skin so they penetrate deeply, nourishing and enhancing the natural beauty.
3. Scalp Massage. Coconut oil doesn't just work for body or face skin massage. Apply it to your scalp – solo or with other oils. If you gently massage it with fingertips, it's going to relieve irritation, upgrade the treatment of dandruff and nourish hair bulbs. The oil increases blood flow to the scalp and more nutrients get into the strands so hair grows faster and stops thinning.